Betsy Cox has always worked with her hands. By day she worked as a physical therapy assistant helping people heal at Reynolds Memorial Hospital in Glen Dale, WV. Evenings and weekends she threw pots and she's kept at it for 28 years.
Today she owns Echo Valley Pottery and is one of West Virginia's elite ceramic artists. Three of her pieces are in the West Virginia Museum permanent collection in Charleston next door to the Capitol building. She is a member of the West Virginia Arts and Crafts Guild which sponsors the well-known juried Mountain State Arts and Craft Fair (https://msacf.com) over 4th of July in Ripley, WV.
Betsy grew up in an artistic family. Her brother is a leatherworker and tooler. Her mom and dad made mosaics.
"Friends of mine started a co-op and about 15 years later I got a part-time job working there. When I retired, I figured it was my time to play. I got a ratty old kiln. My husband bought me a wheel that Christmas. When the studio outgrew the garage, we built a building and we've added on," she said.
In addition to her fine art, Betsy produces mugs and functional pottery for the State Mound Archeological Society. "The logo has black sprigs I used to do with a stamp and then paint in the black. It was getting tedious. I broke down and called a friend to learn how he was doing his black and sepia-toned mug art. He said he was getting a new machine and would sell me his old one secondhand. My husband is a tecchie. He said we'd buy a system of our own. We bought a CerPrint along with the blue and black toners. My husband set it all up and really enjoyed it."
With the CerPrint, Echo Vally Pottery's functional pottery business is easier and thriving. If you're traveling the WV Turnpike, stop at Tamarack Marketplace (https://www.tamarackwv.com/) where Betsy's functional bowls and cups are for sale. Check out the WV artist gallery while you're there.
Betsy's work primarily uses primitive firings—saggar, raku, pit, and wood—all of which are ancient ways of treating clay objects. Her inner artist wanted to try using CerPrint for these pieces. "The first black decal I designed for the pot wouldn't stick. It turns out I was leaving the decal in the water too long. I didn't want to waste it. I slapped clear Raku glaze on top of the pot and got the decal to stick to the glaze. I added more Raku glaze on top of the decal and fired to 1725 degrees Fahrenheit for 60 minutes." (see photo)
The second photo is Betsy's CerPrint Blue celadon decal which she applied on top of the glaze. She fired to 1650 for 30 to 40 minutes.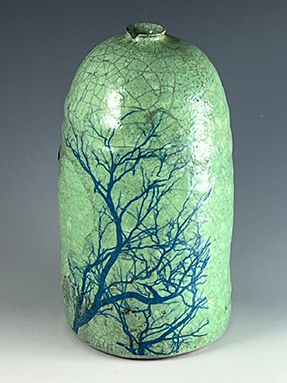 She wants to do a Sagerware trial this fall with CerPrint decals in her wood kiln. She plans to encase the piece in a ceramic pot with chemicals and wire and fire it to 16-1700 degrees. She's planning to use a terra sigillata sealed earth surface. Can't wait to see what comes out of the kiln.
Exhibitions
September through November, Oglebay Institute Towngate Theatre with an abstract painter. A-few works will feature decals made with CerPrint.
Contact
Echo Valley Pottery
Facebook: Echo Valley Pottery
Instagram: @echovalleypottery
https://echovalleypottery.com
[email protected]